Several years ago I became interested in shooting some .22 long rifle black powder cartridges, just like they did back in the late 1800's, early 1900's. I had often wondered how the accuracy would have held up shooting a magazine or two full in a lever action rifle back in those days of yore.
In a search for information, I came across some data in an 1896 U.M.C. catalog. It indicated that their .22 Long Rifle b.p. cartridges were loaded with 5 grains of black powder and a 40 grain bullet. An 1897 Marlin catalog indicated 5 grs. of a "special black powder". The mid range trajectory at 100 yards was shown at 4.44". Based on that, the velocity would have been in the 1,000 – 1,100 f.p.s. range.
The fact that the description, "special black powder" was used, would seem to indicate that it may have been especially formulated to produce less fouling in the small .22 caliber bore, thus assuring repeatable accuracy for a number of rounds. In addition, the "special black powder" would give the necessary ballistics required.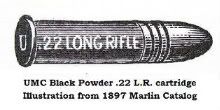 Now to try and replicate the vintage b.p. .22 L.R……….
COMPONENTS:
BLACK POWDER –
Goex FFFG – A .22 L.R. case would not contain a complete 5.0 gr. charge.
Goex FFFFG – same
Swiss FFFG – Being more dense, I found that a .22 LR case would hold the complete 5.0 charge with a little space to spare.
Swiss FFFFG – same density as Swiss FFFG.
BULLETS –
A gas checked style .22 bullet would be needed since the gas check shank would be used as the heel.
Lyman's 225107 – 38 grs. - unfortunately this bullet mold has been discontinued, but a friend provided me with some bullets from his mold. NEI has an equivalent in their .224-39-GC
Lyman 225438 – 45 grs. – o.a.l. too long to cycle through the mag. but shot well.
NEI .224-45-GC – 45 grs – o.a.l. too long to cycle through the mag. but shot well.
Alloys – w.w. + 2% tin added; 20/1 lead tin
Diameter - .225"
Bullet Lubricant - SPG
Making .22 L.R. black powder cartridges –
1.)Remove bullet from a .22 l.r. cartridge - I found that the best way to do that is to grab the bullet with a pair of pliers and twist it to the right (or left if you are left handed) while holding the cartridge in the opposite hand. Then, dump the powder.
2.)Expand the neck – Using a special tool of the proper diameter, the crimped portion is expanded slightly to accept the heel of the .22 cast bullet.
3.)Charge the case with 5.0 grs. of Swiss b.p.
4.)Seat the bullet – I used a special die to do this, compressing the powder slightly.
5.)Reduce the crimp area to back to .225" outside diameter – loaded cartridges were run nose first into a .225" H&I sizing die.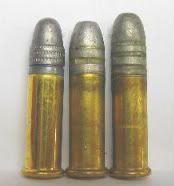 l to r std. 22 L.R. / 38 gr. bullet b.p. / 45 gr. bullet b.p.
It is a bit of work, but the results were worth it. I tested both Swiss 3F and 4F, and both worked well. With the 38 gr. bullet, velocity in the 24" barrel of my Marlin 39A ran an average of 1,055 (3F) and 1,128 f.p.s.(4F). With the 45 gr. bullets, the velocity ran about 50 f.p.s. less.
5 shot groups at 50 yards ran pretty much the same as what that rifle is capable of with iron sights and my aging eyes using standard velocity ammunition…. about 1 ½" with some groups running somewhat less.
The report was kind of neat....like a miniature boom
Interestingly, I found that accuracy did not deteriorate as the shooting continued with 30 rounds having been fired (the most I have reloaded at one time). The moist residue left by Swiss b.p. has certainly helped make that possible.
Pretty neat stepping back in time.......I'll have to get busy during the upcoming winter months to get a batch of these cartridges loaded. THey are fuunnn to shoot.
w44wcf